Governor Whitmer's complete control and reckless policies destroyed the economy. Instead of prioritizing getting people back to work and giving our students the education they deserve, Whitmer is focused on the only thing that really matters to her: Politics.
In a fundraising email today, Whitmer criticized us, the Michigan Freedom Fund, for launching "sustained attacks" on her.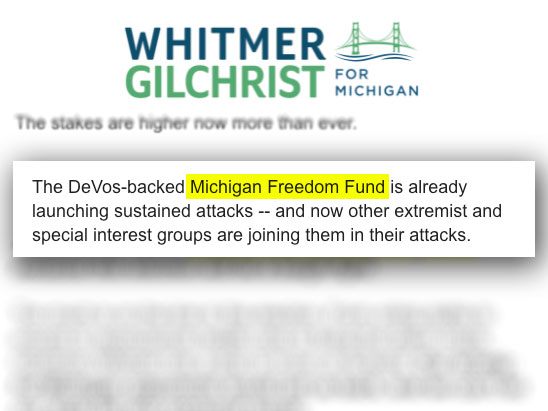 Whitmer can send as many fundraising emails about us as she wants, but we won't be intimidated.
The reality is Whitmer knows we're holding her accountable for her failed record that incentivized the destruction of our economy. Since she is so worried that we will continue to highlight her failures, I wanted to send you some of the top points Whitmer hopes people will forget.
Whitmer's Failures On Jobs & The Economy
Whitmer mandated the longest and most severe lockdowns in the nation, destroying our state's economy and small businesses;

Whitmer's overly generous unemployment payments incentivized people to not want to work, despite many job openings;

Whitmer supports Biden's excessive government spending and debt that is hurting middle class families. The resulting inflation means gas, groceries, and everything else costs too damn much.
Whitmer's Failing Our Students
Whitmer unilaterally shut down Michigan schools. She was a puppet for the teachers unions and never cared about the children who faced a drastic increase in failing grades and mental health problems as a result;

While students were still suffering learning loss as a result of her shutdowns, Whitmer vetoed reading scholarships – money that would have given families the ability to ensure their child had all learning options available to help with reading; 

Even worse, Whitmer is now threatening to veto legislation that would empower parents to ensure their child gets the education that works for them;

For Whitmer, it's not what's best for students, it's about what's best for her political supporters leading the teachers unions.
Michigan is on the wrong track, but instead of working to rebuild Michigan's economy and empower parents and students, Governor Whitmer is busy playing politics.
The power of government belongs to the people, not the other way around!
We won't stop fighting.

Chip in $10

to help us hold Governor Whitmer accountable.
Tori Sachs
Executive Director
Michigan Freedom Fund