Whitmer's Pattern of Money Laundering Emerges After $250,000 Refund to Brother of Supreme Court Justice While Funneling $3.5 Million to Democrat Party
Whitmer Was Previously Accused of Money Laundering By A Democrat Primary Opponent in 2018
LANSING, MI – Governor Gretchen Whitmer's laundering of millions of dollars in corrupt campaign cash to the Michigan Democratic Party violates the conditions provided in statute and has led to a new round of questions as to why she refunded $250,000 in contributions above campaign finance limits to attorney Mark Bernstein, the brother of Michigan Supreme Court Justice Richard Bernstein.
"Gretchen Whitmer is laundering her corrupt campaign cash and breaking the rules everyone else has to follow by using the Michigan Democrat Party as a slush fund. This isn't the first time Whitmer has been accused of money laundering. In 2018, a fellow Democrat accused Whitmer of laundering campaign money, and four years later, Whitmer is at it again," said Tori Sachs, executive director of the Michigan Freedom Fund. "Questions remain unanswered as to why a Michigan Supreme Court Justice's brother was the only person to receive a refund of his excessive $250,000 contribution while $3.5 million in corrupt funds went from Whitmer's campaign committee to the Democrat Party."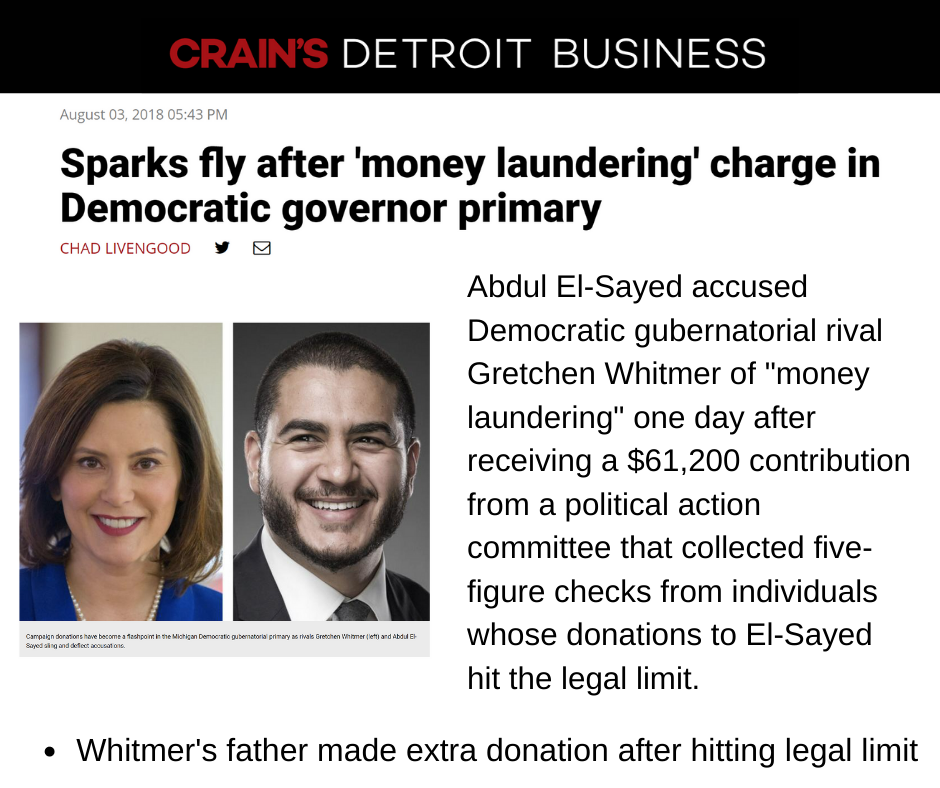 In 2018, Whitmer's Democrat gubernatorial primary opponent, Abdul El-Sayed, accused her of "money laundering." Crain's Detroit Business reported: Sparks fly after 'money laundering' charge in Democratic governor primary
The standard operating procedure from the Michigan Secretary of State has previously been to return excess contributions to the donors. Whitmer refunded Mark Bernstein's $250,000 contribution – which exceeded the $7,150 per person limit.
Attorney Mark Bernstein ran for re-election as a Democrat in 2020 to continue serving on the University of Michigan Board of Regents. Bernstein also received a state contract from Democrat Michigan Attorney General Dana Nessel to help the state on opioid-related litigation in 2019.
Whitmer's corrupt campaign cash scandal made national news this week.
The Detroit News: Whitmer campaign sends $3.5M in excess donations to Democratic Party
"Tori Sachs, executive director of the Michigan Freedom Fund, said Attorney General Dana Nessel and Secretary of State Jocelyn Benson had let Whitmer get away with "the largest illicit campaign cash grab in Michigan history.

"Now, Nessel and Benson, two Democrats who are up for reelection this fall, could benefit from the funds, Sachs noted."
Associated Press: Whitmer has nearly $10M for election, shifts funds to party
"The Whitmer campaign has said it is legal to move the money to the party. Sachs, in a request for a declaratory ruling filed with Benson last week, questioned — among other things — how the money can be transferred without Whitmer disbanding her candidate committee."
WBCK: Governor Whitmer's Recall Campaign Donation Scheme Revealed
"This corrupt laundering scheme proves that while Benson and Nessel are on duty, the law doesn't matter and there are no consequences for Gretchen Whitmer and her allies."
Crain's Detroit Business: Who gave big donations in governor's race
"Whitmer's campaign also reported refunding a $250,000 excess donation to trial attorney Mark Bernstein, managing partner of The Sam Bernstein Law Firm in Farmington Hills.

"Even though the Whitmer campaign donated the excess funds to the Democratic Party, it continued to accept big checks exceeding normal contribution limits utilizing the recall campaign finance loophole."
Secretary of State Jocelyn Benson has not yet responded to the Michigan Freedom Fund's request for a declaratory ruling.
The Michigan Freedom Fund works to advance conservative ideas, hold our government accountable to taxpayers, and protect Freedom, opportunity, and workers' Constitutional rights. For more information, please visit MichiganFreedomFund.com.